Let's be honest here for a moment: w
hen it comes to redecorating your home, your master bedroom is oftentimes the most overlooked room in the house.
We tend to focus our energy on the rooms guests will see more of, like the living room, kitchen and even our bathrooms. But your bedroom is an equally important space as it should be the ideal environment for you to

relax and unwind in.

​Here are four
simple master bedroom decor ideas we think you'll love.
4 Simple Master Bedroom Decor Ideas
1. Invest In New Furniture And / Or New Bedding
If your bedroom furniture is dated and worn, maybe it's time to invest in some new bedroom furniture. Sure it may not be the most frugal prospect, but it is the one that will pack the biggest punch when it comes to your bedroom decor.
Perhaps consider
hardwood bedroom furniture
for a classic choice or if you prefer, be the biggest punch. It will not only bring an air of timeless elegance, but it can also add an element of sophistication. Plus, hardwood stands up better over time than many other materials. It is durably constructed so that it can not only last through different trends in style but also keep its polished look and feel. So whether you decide to replace your bedroom's furniture or not, quality hardwood furniture can give it the perfect touch!
If new bedroom furniture is out of your budget, perhaps a new mattress is all you need. Not only would it improve the look of a sad, sagging mattress, you'd also ensure a better night's sleep.

Ultimately, you can add fresh, new bedding to your decor, and incorporate new furniture over time. We love Delilah Home for bedding, because they
only use quality 100% organic cotton certified to the Global Organic Textile Standard (GOTS) and non toxic hemp products that are better for the environment.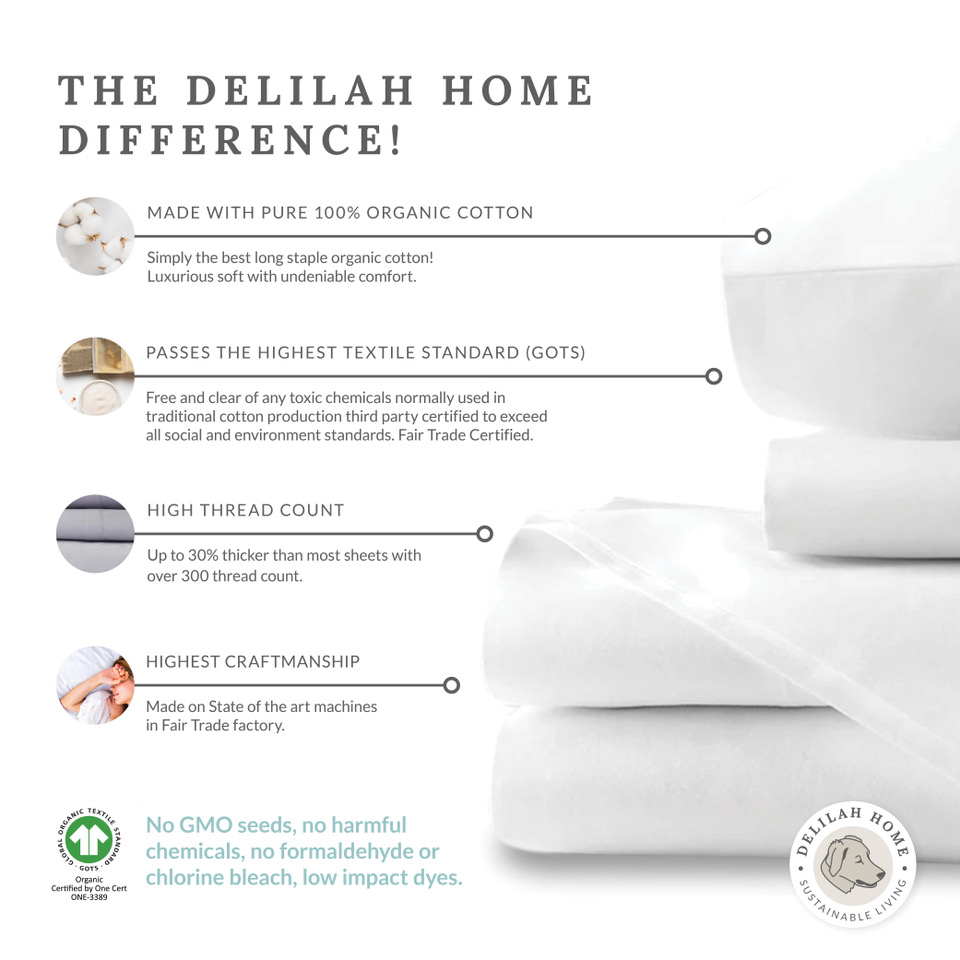 2. Change Up The Wall Color
The color of your bedroom can really make a difference to the overall feel of the room. Consider colors that are more calming, such as soft grays, dusty pinks and creams, as it can help you have a better quality of sleep. A fresh coat of paint can make the world of difference to how your room looks and feels, and a more neutral palette will lend itself to more flexible decorating options, too!
We also love the look of an accent wall in the bedroom, like behind the bed, or directly across from it.
---
You May Also Like:
---
3. Get Rid Of The Clutter
A cluttered bedroom can be a stimulant for your mind and can cause you to feel less relaxed and at ease in your space. Minimizing the mess in your room and

getting rid of the clutter for good will free up space not only in your room but in your closets and wardrobes as well. As you declutter, you may find that you have things that you no longer want or need so it could even be an excellent opportunity to make a few extra bucks by selling your items on platforms like Ebay and Poshmark!
​
4. Add Some New Interior Finishes
Finally, add some finishing touches to the room. Maybe new lamps, throw pillows, a throw rug and attractive window treatments. Hang your favorite artwork, a few family pictures and add a few houseplants here and there to help with the air quality in the room. Finally, keep things tidy by having a place for everyday items such as makeup and beauty products.
​Here are a few of our favorite pieces we think would be a great addition to any master bedroom (click on the images for more details):
​
---
---
---
We hope that this post has got you inspired to improve the look of your bedroom. For more great ideas, check out this infographic from dreams.co.uk. In it, you'll find ways to "improve your bedroom and transform your sleeping space into a haven of tranquility and bedtime slumber". Sounds good to us!


​*This post contains affiliate links. For more information, please see our
Disclosure Policy & Terms of Use
.